Puzzle Room
Our Puzzle Room is full of romance and comfort. The room has a double whirlpool bath, a large bed and a modern walk-in shower, toilet and vintage washing facilities..
The wall behind the bed dates from 1639, the various extensions are still visible in the structure.
During the renovation we found a puzzle that the previous residents made in 1982.
The area of the room is 35 m2 and located on the first floor of the former clog shop.
The room features:
wifi
cable television (Netflix)
fridge for drinks
Senseo coffee machine with pads
kettle with assortment of tea
2 person whirlpool bath
walk-in shower
toilet
sink
bathrobes
towels
Seating area
Price per night including breakfast for 2 persons: € 150.00 (1 Person € 135.00).
15% discount for stays of 5 consecutive days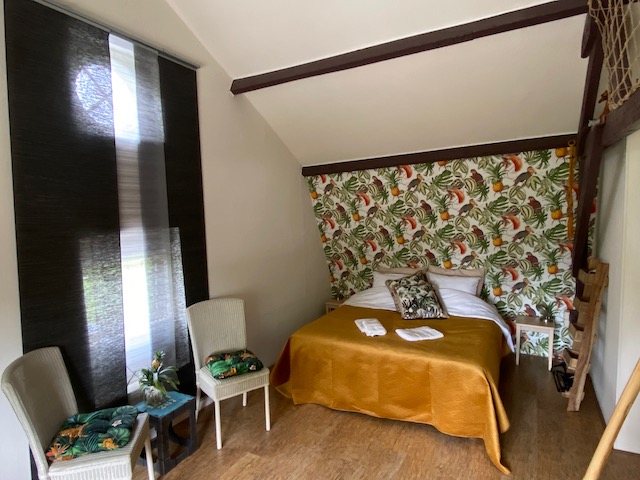 Tropical Room
Our Tropical Room has a beautiful view on 3 sides. Enjoy the garden with the river De Goudriaan at the front, beautiful sunsets to the side and from the bathroom you can catch a glimpse of the polder mill.
The room has a spacious double bed (1.60 meters wide) and a mezzanine with a mattress of 1.20 meters wide. A wonderful place for young children or couples in love.
There is a comfortable sofa and a lovely hanging chair.
The private bathroom with sink, toilet and walk-in shower are comfortable
The area of ​​the room is 32 m2 and located on the first floor of the former clog shop.
The room features:
wifi
cable television (Netflix)
kettle with assortment of tea
Senseo coffee machine with pads
walk-in shower
toilet
sink
towels
Seating area
Price per night including breakfast for 2 persons: € 120.00 (1 person € 105.00 – 3 persons € 135.00)
15% discount for stays of 5 consecutive days